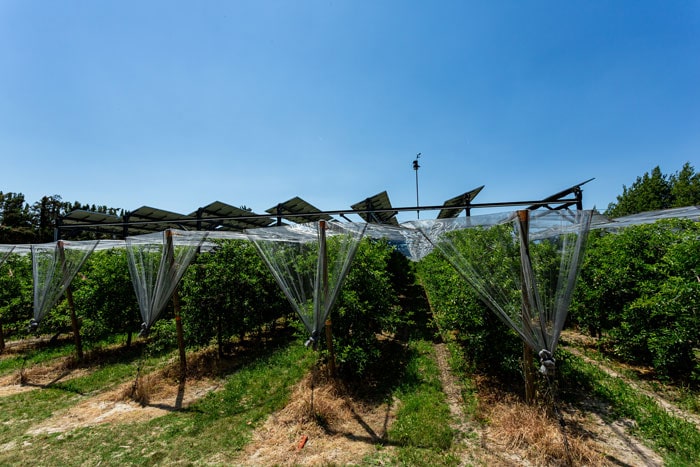 Installing dynamic agrivoltaic (DAV) systems over crops provides transient shading. It thus acts as a tool for the protection and adaptation of fruit trees to climate change, optimising the quality of fruit production and maintaining high yields by:
Limiting excess solar radiation and high temperatures: in hot weather, controlled shading can reduce the temperature of fruit trees under DAV by up to 4°C while ensuring better relative humidity; at the same time, the apical leaves do not curl up and the level of photosynthetic activity can be maintained.
Reducing the risk of frost: with an average temperature difference of several degrees when the thermometer is approaching 0°C, the DAV thermal blanket protects the plants against harmful spring frost, especially during bud burst.
Reducing water stress while limiting irrigation: irrigationrates are on average up to 30% lower than on the control plot, accompanied by lower actual water consumption; this also protects the trees against occasional periods of severe water stress (which was 63% higher on the control plot during a heatwave).
Contributing to more consistent production quality: apples with uniform firmness and size, controlled colouring and less sweetness in the fruit.
Regulating production: the system protects the trees against the harmful effects of certain whether events and accentuates natural thinning by providing a predefined amount of shading for each stage of the crop, thereby naturally controlling fruit drop.
Combining multiple protection solutions, e.g. against rain and hail, by making it possible to install nets at lower costs.
These experimental data come from three research and development programmes carried out since 2009 in collaboration with INRAE (which was formed from the merger of INRA and IRSTEA).
The experimental system set up in March 2019 on an apple orchard at the La Pugère arboriculture experimental station (Mallemort, 13) has produced numerous results. INRAE (the ex-IRSTEA departments LEPSE, PSH and G-EAU) carries out the agronomic monitoring of the apple trees and then jointly analyses the data together with the La Pugère experimental station.