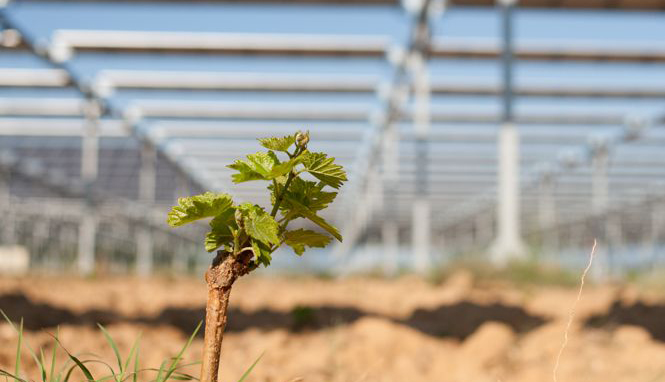 Boralex, a renewable energy producer, and Sun'Agri, a pioneer and the global market leader in agrivoltaics, are joining forces to develop the sector in France and Europe in order to build new solar power plants while protecting farms from growing climate risks.
After the severe spring frost that hit agricultural crops in France this year, it is more important than ever to offer farmers new solutions, such as agrivoltaics, to adapt to climate change. Agrivoltaics uses solar louvres controlled by algorithms that are tailored to the agronomic needs of plants, thereby making it possible to manage their sunlight and shading requirements and to increase both the quality and productivity of crops.
Boralex is joining forces with Sun'Agri to help shape the agrivoltaic industry and accelerate its development in France and Europe. This partnership takes the form of a 10-year framework agreement, as part of which Boralex will work exclusively with Sun'Agri to develop agrivoltaic projects in the European Union. Boralex will thus put its extensive expertise in the life cycle of energy projects at the service of agriculture, while Sun'Agri will take care of agronomic support and louvre control.
Sun'Agri is a pioneer and the global market leader in agrivoltaics. After nearly 10 years of research and development, the company inaugurated the world's first dynamic agrivoltaic demonstration system in Tresserre in the south of France (covering 4.5 hectares) in 2018. During its last two calls for tenders for "innovative photovoltaic solar energy" in April and December of 2020, France's Energy Regulatory Commission selected 37 projects that use the Sun'Agri technology.
Boralex develops, builds and operates renewable energy plants in Europe and North America. The company's portfolio includes over 1 GW of installed wind and solar capacity in France and 2,455 MW worldwide. As part of its strategy to diversify its operations by 2023, Boralex is working with key partners to develop agrivoltaic projects adapted to the various regions in which it operates.
"I am delighted to announce this partnership with Boralex, a leading player in renewable energies that supports the transformation towards a greener world. Together, we will be able to accelerate the vital development of agrivoltaics", says Antoine Nogier, President and founder of Sun'Agri.

"At Boralex, we provide renewable and affordable energy for everyone. That's why we are very excited about our partnership with Sun'Agri. The combination of our respective skills and values will enable us to adapt solar energy production to agricultural needs. Together, we will be able to implement agrivoltaic projects in Europe that are optimised for agriculture", adds Nicolas Wolff, Vice President and Managing Director of Boralex Europe.
About Boralex
Boralex develops, builds and operates renewable energy production sites in Canada, France, the United Kingdom and the United States. One of the leaders in the Canadian market and the largest independent producer of onshore wind power in France, the company has a proven track record of optimising its asset base across three types of power generation – wind, hydroelectric and solar. Thanks to its expertise and the diversification it has undergone over the past 30 years, Boralex has seen sustained growth. Boralex shares are traded on the Toronto Stock Exchange under the symbol BLX. For more information, visit www.boralex.com or www.sedar.com. Follow us on Facebook, LinkedIn and Twitter.