Press Release: ENGIE Green and Sun'Agri enter into partnership to accelerate the development of agrivoltaics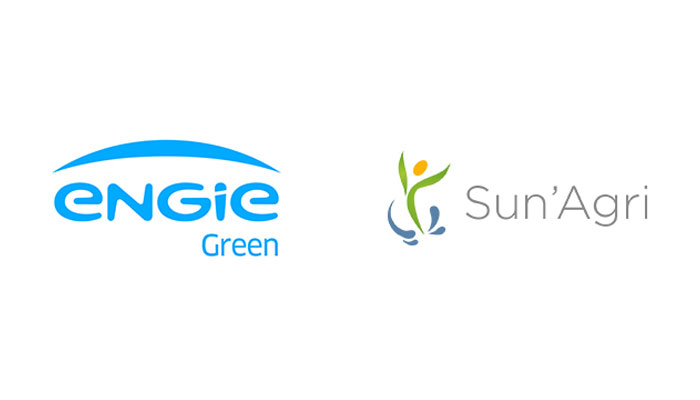 ENGIE Green, the French market leader in solar energy, and Sun'Agri, a pioneer and the global market leader in agrivoltaics, have signed an ambitious partnership agreement aimed at helping French agriculture to adapt to climate change. This partnership marks a new stage in the development of agrivoltaics in France.
Crops, especially those in the south of France, are increasingly threatened by the effects of climate change: drought, frost, hail, etc. To safeguard these crops and our food sovereignty, we urgently need to support farmers to help them adapt.
Agrivoltaics is a tool for protecting crops against weather hazards, whereby mobile solar louvres are placed above the plants at sufficient height to enable agricultural machinery to pass. These solar louvres are placed at the service of the plant; controlled by algorithms tailored to agronomic needs, they tilt to provide sunlight or shade, as required. The main aim is to enable farmers (such as wine or fruit growers) to achieve their production targets, both in terms of quality and quantity, even in the face of weather hazards that threaten their crops.
The partnership agreement signed by ENGIE Green and Sun'Agri aims to accelerate the development of agrivoltaics by supporting the adaptation of small and medium-sized vineyards and orchards to climate change. Together with the farmers, ENGIE Green will be responsible for the development, construction, financing and operation of the system. Sun'Agri will contribute its agronomic expertise during the design phase and will be in charge of controlling the solar louvres. By combining its expertise with that of Sun'Agri, ENGIE Green is expanding its portfolio by offering an innovative and effective service for supporting the sustainability of farms and promoting synergies between agricultural production and electricity generation.
Sun'Agri is a pioneer and the global market leader in agrivoltaics. After nearly 10 years of R&D, the company inaugurated the world's very first dynamic agrivoltaic demonstration system (covering 4.5 hectares) in Tresserre in the south of France in 2018. ENGIE Green, the French market leader in wind and solar power with an installed capacity of 3 GW, operates a dense network of development and management agencies across the country. As a result, its teams have built up long-term relationships of trust in the countryside, which they will be able to reinforce by means of this new solar technology.
"At its heart, this partnership is about the complementary know-how of ENGIE Green and Sun'Agri. I am excited    the boost it will give to agrivoltaics and the new synergies it will create between agriculture and renewable energies", says William Arkwright, CEO of ENGIE Green.
"We are on the verge of a large-scale expansion of agrivoltaics. The partnership with ENGIE Green strengthens our capacity to support farmers in adapting to climate change", adds Antoine Nogier, President and founder of Sun'Agri.