Press Release: Sun'Agri receives award at the 2021 SIVAL Innovation Competition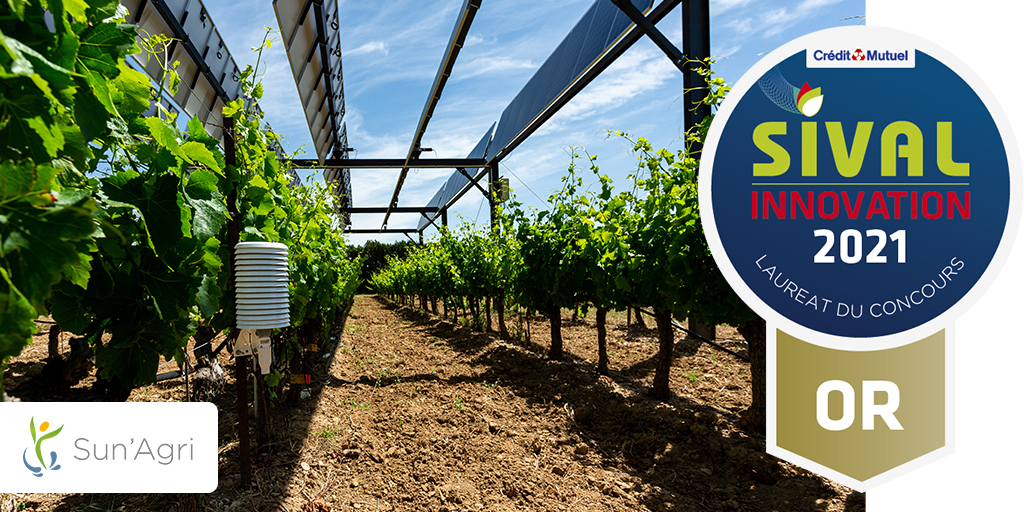 The SIVAL Innovation Competition, which each year recognises innovative solutions to specific crops, has just awarded Sun'Agri the gold medal in the "Machinery and Automation" category. After the SITEVI Innovation Awards in 2019 and the Natur'Tech competition in October 2020, Sun'Agri's technology for adapting agriculture to climate change has thus once again been recognised.
"Such recognition from our peers is very important to us. It confirms the value of agrivoltaics as a farming tool and a technology for adapting agriculture to climate change and safeguarding agricultural yields." Antoine Nogier, founder of Sun'Agri
Established in 2015, the SIVAL Innovation Competition aims to reward the most innovative equipment, product and service solutions for all types of crops. The final jury is made up of four farmers, four technicians, five journalists and members of the SIVAL organising committee. More than 70 expert opinions from within the sector were submitted in advance in order to ensure a high level of expertise. The awards are presented during the annual SIVAL trade show, the most important event in the field of crop production (this year, it has been exceptionally moved to January 2022).
The jury awarded Sun'Agri the SIVAL gold medal in the "Machinery and Automation" category. We are a pioneer and the global market leader in agrivoltaics, a technology that allows farmers to safeguard and increase their harvests even in the face of climate change. The aim is to enable farmers (such as wine or fruit growers) to achieve their production targets, both in terms of quality and quantity, even in the face of weather hazards that threaten their crops (water stress, heatwaves, frost, hail, etc.).
It works based on the idea of protecting crops against climate risks by placing mobile solar louvres above them, at a sufficient height to allow the passage of agricultural machinery. These solar louvres are placed at the service of the plant; controlled by algorithms tailored to its needs, they tilt to provide sunlight or shade, as required.
This technology is set to grow significantly in France over the next few years, given that 19 agrivoltaic projects were selected in a tender launched by the French Energy Regulation Commission (CRE) last April. In November, Sun'Agri also announced the launch of the "Cultivons Demain!" initiative, which aims to raise €1 billion by 2025 to equip 300 French farms with agrivoltaic systems. In 2018, Sun'Agri inaugurated the world's first full-scale dynamic agrivoltaic installation in Tresserre in the south of France.